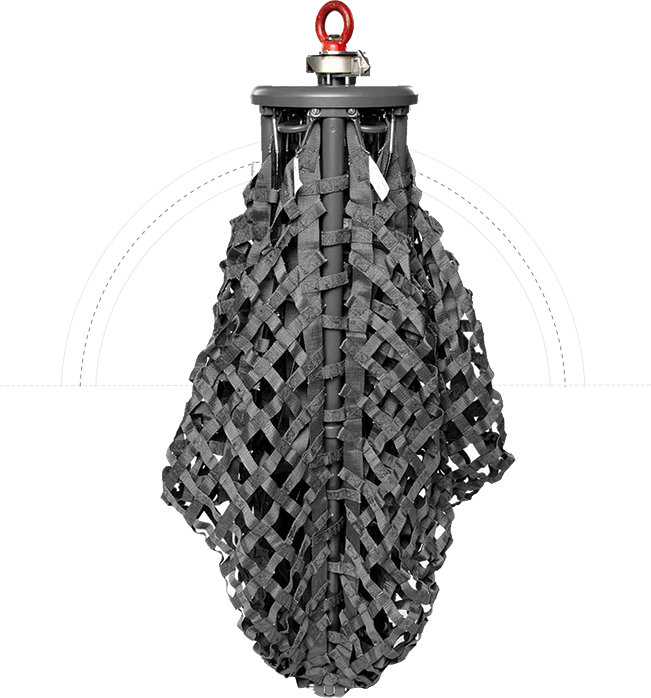 AirTEP – Military
---
AirTEP (Airborne Tactical Extraction Platform) is a dedicated tool for Special Forces and Special Operations.
• Airborne: designed for any helicopter
• Versatile: all situations in severe environment
• Quick: Extraction of a group in less than 5 min
• Efficient: 10 soldiers at once
---
Dropping
Thanks to a 25 meter rope, the extraction or insertion missions can be carried out in confined areas.
The descent and opening are entirely controlled by the load master. The dropping phase is not longer than 10 seconds.
Boarding
Secured by a safety belt hooked to the mast, soldiers are hand free and have a 360° vision. The capacity is 10 pax in full military gear.
The boarding phase is not longer than 1 minute.
Flying
Folded inside the helicopter, the AirTEP has no effect on the approach flight.
Flying at the maximum speed of 100 kts, the design of the platform and the rope give a great in-flight stability: no pitching nor gyratory effect.
APPLICATIONS
---
The AirTEP system is used in military extraction or rescue operations, typically when helicopters cannot land.
Extracting people one by one is highly risky especially when times and conditions are at the worst. AirTEP protocol is quicker and safer.
Special Ops

Maritime Counter Terrorism (MCT)

Counter Terrorism (CT)

Combat Search and Rescue (CSAR)

Hostage Rescue

Cover Operations

Anti Narco Missions
KTS
Maximum indicated speed
Minutes
Deployment and Extraction
AirTEP SPECIFICATIONS
---
Safe Working Load: 1 500 Kg

Weight: 53 Kg

Storage and transportation: collapsible

Qualification: compliant with airborne regulations MIL-STD

Approval: designed and approved for various helicopter platforms

Life time: 15 years

Environmental Range: -30°C to +50°C

Sea-water resistant and fireproof